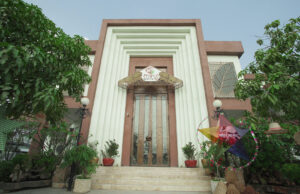 103 Café (a part of 103 New Production Group Plc. Company) is an original Khmer-Asian restaurant chain, headquarter in Norodom Blvd, Phnom Penh, Cambodia, that specializes in serving the leading F&B especially Pho, Elegance Café , which are based on Khmer- Asia tastes, along with 2 Branches in Phnom Penh. 103 Café is known for its slogans "Real Taste, Real Space and Real Service." That makes customer "Feels Like Home."
The first Branch of the 103 Café started to operate which serving Foods soft drinks and Cakes with the high quality and focusing on health and hygiene, targeting the middle-age customers who enjoyed their times with family, friend, through the relaxing place and operated from 6:30am to 3:00pm.
In 2016, by the supporting from customers with the foods, beverages especially, Pho, the second branch, started to extend along the National road 1, Near Borey Peng Hout Boeung Snor, Chbar Ompov, Phnom Penh
In the same year, 103 Café was gaining award from Ministry of Health as a Grade A of food quality and hygiene. Well known as healthy food (Pho) and the best coffee (Elegance Coffee) that serving the customer with a high service standard and place, providing the customer with safeties food and drink with the relaxing environment.
While the company is starting to sell the franchise by the end of the year 2020, willing to spread the 103 Café Brand name throughout Cambodia and becoming the first international restaurant in Cambodia to the worldwide.